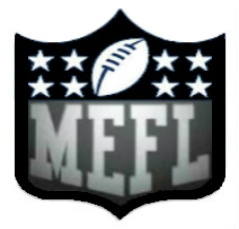 MEFL PLAYOFF PUSH
It is that wonderful time of year again.  The time of year where some teams are looking forward to the NFL Playoffs, while others are fighting like hell to get in, and the rest are rebuilding for next season.  Many questions still remain in 2015.
Can the chrebet1024 and the Jets become the first MEFL team to win 3 consecutive championships (Fantasy or Default)?  Can zeemen and the Chiefs get that Default trophy he is looking for?  Will certain guys like hellrazor119, sl1cks1lverman or DBE finally break through in the playoffs?  Only time will tell.
A few playoff races that have captivated us are these:  In the AFC, 3 divisions have seemingly been decided already: Jets in the East, Chiefs in the West and Browns in the North.  The final 3 spots are being fiercely fought by the Titans, Colts, Chargers, Dolphins and Jags.  The AFC South will go down the wire, as the Colts trail the Titans by one game.  The Fins and the Bolts control their own destiny in the 2 Wild Card spots at 9-4, but the Colts are also right on their trail at 8-4 and the Jags at 6-6 will need to run the table and get some help.
The NFC Picture has the 49ers, Eagles and Bucs all in control of their Divisions.  In the North, the Vikings sit 1.5 games ahead of the Pack.  So the Vikings, Pack, Seahawks, Redskins, Panthers, Bears and Cowboys are all still alive.  It's a flat out mess folks, and it doesn't look like anybody wants to win it as the Pack cannot take full control.  The Seahawks and Packers still control things, but if they falter, there will be some teams foaming at the mouth to pounce on the opportunity.  A huge wild-card in this wild-card race is the very talented veteran Str8Coach taking over the Cowboys franchise mid-way through the 2015 season.  Sitting at 6-7, nobody in the NFC wants to see this guy sneak in (MEFL Fantasy Bowl II Champion).
Regardless of what position your team is in, this time of year is a very important bunch of games.  Who will finish strong?