Saints Win Big One
The Saints, led by spudaddy_24, went into hostile St. Louis this Sunday and defeated the Rams 24-13 in a very well played game.  Each team only had 1 turnover as the Saints rushing attack was just a bit too much for the Rams to handle.  Darren Sproles and Pierre Thomas helped the Saints to 132 rush yards and the Saints defense held the Rams to only 50.
Written by chrebet1024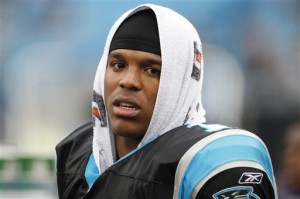 Carolina With Great Showing
The Panthers added another loss to the tally when the Jets came to town this week but this one has brought optimism to the Carolina faithful. The Panthers had 408 offensive yards vs the league's most stingiest defense and put up 35 points. If if wasn't for a costly int in the end zone by Cam Newton then the Panthers may have just been able to sneak this one out. They had a very balanced attack with 159 rushing yards and 249 passing. At the end of the day the Jets had 0 int's dropped and the Panthers had 2, if they want to win more games next season they are going to have to take advantage of their opponents mistakes. The Panthers will look to this offseason to upgrade at OLB and CB to beef up this defense. the new ownership has said they expect nothing else except a division title and a deep playoff run. With this offense lighting up the NFL's number 1 defense I'd say things are looking bright he in old Carolina!
Written by thedarkconfidant
New Owners In MEFL

Week 15 might mark the end for many teams in 2013, but for FJD42 and RXDispenser, it marks a brand new beginning.  FJD42 struggled in his first game with the Bucs as he lost to deathbyeagle and the 49ers, but will look to build onto this talented Bucs team in the coming seasons.  RXDispenser will take the helm in Arizona.
Written by chrebet1024